January 8, 2012
Happy New Year!  Have you ever heard of the BRAT diet?  Bananas – Rice – Apples – Toast  It's what we were all on over the New Year's because we had the flu.  It's helpful for adults and babies to soothe the digestive system when your under siege by any nasty virus.  Cassie is almost 9 months now and loves finger food more than the purees.  It makes mealtime a little easier on me; I don't have to constantly feed her, I just need to make sure she has enough food on her tray.  Her favorites are peas, green beans, legumes (lentils, black beans, white beans, etc), broccoli, zucchini, banana and just about anything I'm eating that I haven't seasoned with salt. I found purple cauliflower at the farmer's market the other day and she really liked it too!  It tastes a little milder than regular cauliflower.  I think we're changing to more of a baby led weaning diet around here.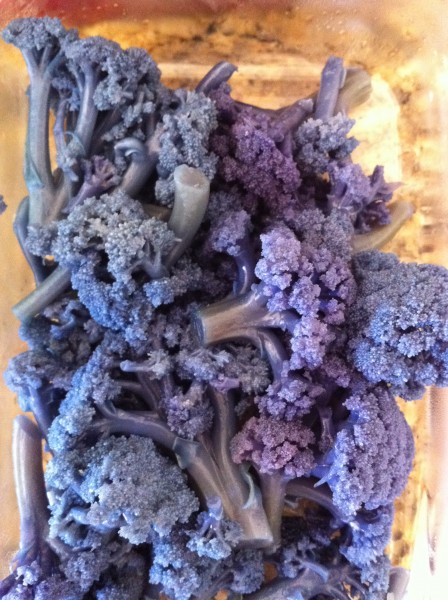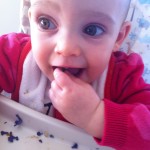 ————————
December 20, 2011
I feel as if I'm getting better at making baby food and the family meals at the same time.  I've been keeping hard boiled eggs on hand in the refrigerator and mashing the yolks into Cassie's food for added cholesterol which aids in mental development.  The other day I roasted a chicken in the oven along with an acorn squash and beets.  I made Roasted Squash Beet Puree and Cassie loved it!  Cori ate some too and loved it as well.  I'm also making chicken stock with the chicken carcass.  The chicken stock has so many nutrients in it which will help us boost our immunity this busy time of year.  My favorite way of making chicken stock is in the slow cooker, I can cook it and not think about it for an entire day.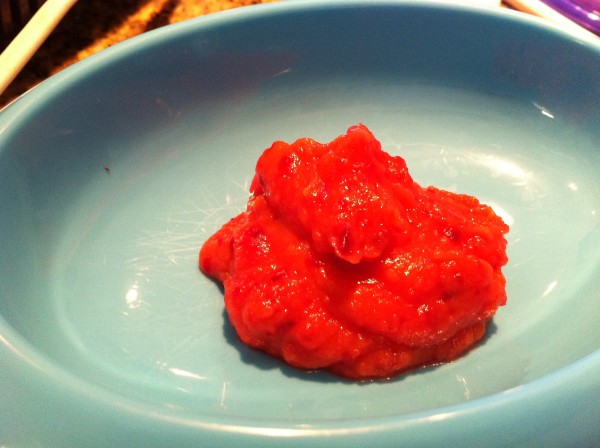 —————————-
December 12, 2011
Okay, so it's been quite a few weeks since I've last posted!  We've moved to another part of the state and into a smaller house…with an 8 month old and 2 1/2 year old who are now sharing a room…need I say more? 🙂
I've been trying to feed Cassie fresh food when I have the time, but honestly, she's been eating a lot of baby food from jars and pouches the past few weeks.  She really likes the Earth's Best baby food in jars and Plum Baby baby food in pouches.  The Plum Baby is easy to take with and feed her on the go.  She's actually sucking it out on her own and wanting more most days!
Today I made Easy Sweet Potato Casserole from the Gluten Free Around the World site and it was amazing!  I left out the almonds and only used egg yolks instead of whole eggs since Cassie is under one year.  I also used coconut oil as the oil in the recipe, it makes the taste super creamy and satisfying.  This recipe is super easy and good for everyone in the family to eat.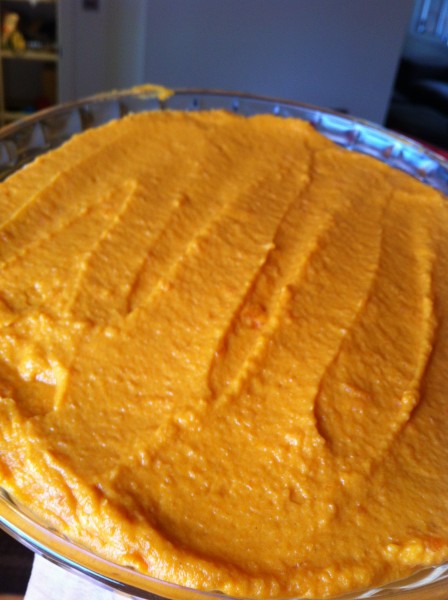 ————————–
November 24, 2011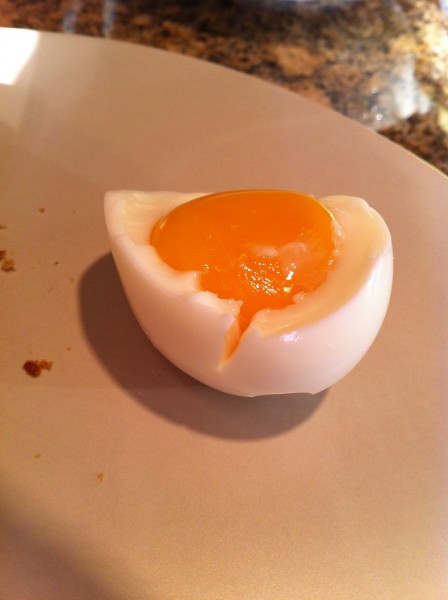 Happy Thanksgiving!  I know I should probably write about turkey today, but I've been taking things slow with Cassie and haven't introduced it yet.  Her favorite protein is egg yolk, in fact it's her favorite food.  We have soft boiled eggs quite a few times a week at home, so it's been easy to give her my yolk. One of my favorite blogs lately is Mama and Baby Love; she has a wonderful explanation of the benefits of egg yolk for babies.  In a nutshell, egg yolk supplies the cholesterol, omega-3 long-chain fatty acids needed for the development of the brain along with other nutrients.  It's one of the best foods you can give your baby!  You can always hard boil eggs and mash up the yolk with a little breast milk or formula too.  Add avocado and/ or banana to the mash too.  Cassie loves soft boiled egg yolk, check out her video debut.
———————–
November 13, 2011
The wonderful thing about prunes is that they are easy to digest and help get rid of common constipation due to the introduction of solid foods for baby.  Prunes can be eaten by babies as a first food and have a very low allergy risk.  Mix prunes into rice cereal or grains to help rid your baby of constipation.  I've made these frozen prune chips really small so I can add it into sweet potatoes, butternut squash, meats, etc.  It's been working really well for both Cassie and Cori!  Cori is 2 1/2 now and loves to eat the frozen 'prune chips'.
——————-
November 8, 2011
Today was the first day that Cassie opened her mouth like a little bird wanting to eat solids from her spoon.  After she finished her pears, grandma gave her smashed carrots and she loved it. I also put a few pieces of cut up carrots onto her tray for finger foods.  After almost a month, she's starting to look forward to mealtimes!
———————–
November 3, 2011
I'm not starting Cassie on the traditional rice cereal as one of her first foods.  I want her to get more nutrient dense foods in her body rather than fortified food.  A six month old baby needs a lot of iron in their diet, that's why I've braved making liver pate and feeding it to her in the past week.  It's an excellent source of iron and easily digested because it's a whole food.  I admit that I get squeamish about cooking any raw meat and raw liver tops my list in the squeam factor. It was actually easy, I even sneaked the extra pate into meatballs I cooked for the family to create a more nutrient dense dinner.
In the past week I've introduced banana, coconut oil and liver pate.   There has been no reaction of any sort with Cassie except a little constipation and a bit of a diaper rash.   I'm keeping an eye on the diaper rash to make sure it's not a reaction to food.  My gut feeling is that it's just a normal little rash that babies get when they are starting solids.   Coconut oil is high in lauric acid which is found abundantly in breastmilk.  When a nursing mother eats coconut oil it will increase lauric acid in her milk.   One days worth of homemade formula  calls for 2 tsp of coconut oil.  I'm going to continue to go slow with all of the food introductions and eventually Cassie will get two teaspoons of coconut oil daily.
————————–
October 25, 2011
The green beans worked okay for our trial of the Baby Led Weaning style of feeding Cassie, but I felt like she might have a better go of it pureed.  So last night I made pureed green beans and pears, cooking while the girls are sleeping is a much quicker task than when they're awake.  Tonight Cassie ate the green bean puree mixed with breast milk and seemed to like it.  She was grabbing the spoon and putting it in her mouth anyhow. Green beans were everywhere!  There's been no reaction or change with her for a few days now so I'm adding green beans to the list of things for her to eat.  I found this food diary to track what she eats, because I know I'll forget it if I don't write it down!
—————————
October 20, 2011
Tonight I tried out Baby Led Weaning, which is feeding your baby basically what you eat, without the added salt or seasonings.  I steamed some green beans for the family and left a few in the basket to get really soft for Cassie.  She loved grabbing the beans and even tried a few bites.  All of the green beans ended up on the floor for our dog Sparky to eat up.  I feel like she's not too crazy about eating solids yet; avocado wasn't a big hit and she either sucks up the butternut squash or blows it out most of the time!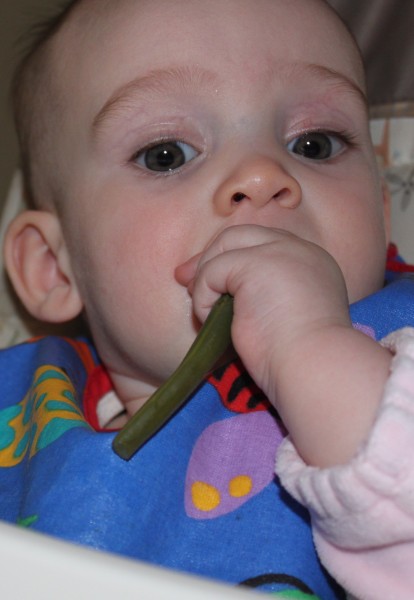 ——————–
October 16, 2011
Today was Day Two of Butternut Squash and Cassie really likes it!  I mixed a little formula with the roasted and pureed butternut squash to thin it out.  I didn't make the homemade formula because she is really having a hard time taking a bottle, she keeps pushing it out of her mouth!  I like Earth's Best Organic Infant Formula because you can mix it up in seconds, I used it with Cori when I didn't have a chance to make the homemade formula.
———————
October 15, 2011
Cassie's 6 month birthday today!  Happy Birthday to you!
Yesterday was day four of avocado and I don't think she's a fan.  Even when I mixed a little avocado with my breast milk she didn't like it.  Today was day one of butternut squash and she loves it!  I mixed about a tablespoon of roasted butternut squash with breast milk so it was very soupy.  She kept trying to sucking it off the spoon!  Now that I have a family of four, I'm trying to streamline making the baby food with my everyday cooking.  I made Butternut Squash Soup and added a can of coconut milk for dinner.  Today was the first day Cassie took the bottle in a while, she's been refusing it for months so today was a great day for Cassie!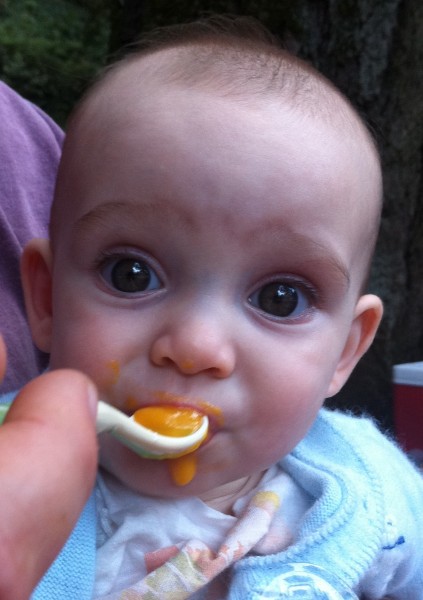 —————————–
October 13, 2011
Day Three – Avocado
I mixed quite a bit more breast milk with the avocado today thinking Cassie would gobble it up.  It was a no go, she kept blowing it out of her mouth!  Maybe I should just add a little avocado to my milk and see if she likes that?
—————————–
October 12, 2011
Day Two
I think Cassie did better on her first day of solids!  Today she wasn't interested in doing much with the avocado except pushing it out of her mouth.  We'll see what tomorrow brings…
————————
October 11, 2011
On April 15, 2011 Corianna became a big sister to Cassandra Mae. Cori is 2 1/2 now, Cassie is almost six months and I never imagined being as busy as I am now as a mom of two!  Cassie has been very closely watching us eat our food at every meal, occasionally grabbing a spoon or anything else she can at the table. I've been thinking about what to give her first, I know she's truly ready but am I?!  We always have avocado's on hand, so I thought why not try it out tonight.  I like the California Avocado's best, they're creamy and seem to ripen better than avocado's from other areas of the world.  I cut it up into pieces which promptly fell all over the place. I mashed a bit into a bowl and spooned it into her mouth, she seemed to like it!  I'll stick to this for 3-4 days and then introduce something new.