Chicken – Spinach Meatballs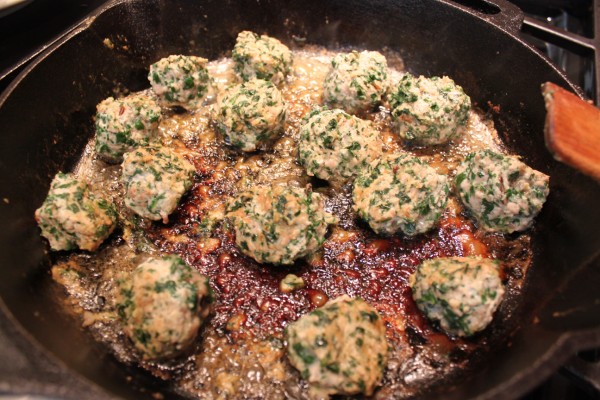 1 lb of organic ground chicken thigh meat

½ lb of fresh organic spinach

2 slices of organic, whole wheat, sprouted bread

1 egg

2 TBSP of butter

½ cup of bone or chicken stock
Instructions:

First rinse spinach and add to a pot of boiling water.
Cook in boiling water for 2 minutes or until spinach is bright green and the leaves have wilted.
Remove from heat and strain while running ice cold water over the spinach.
Press spinach to remove all of the water.
Place on a cutting board and chop into fine pieces.
Place bread into a food processor and pulse until made into fine bread crumbs.
Add chicken, chopped spinach, egg and breadcrumbs to a bowl and mix thoroughly.
Roll into balls and cook in a pan with 2 TBSP of butter and stock, while rolling and turning meatballs for 8-10 minutes or until entirely cooked through.
If you are not planning on cooking them all right away, place raw meatballs on a parchment-lined pan.
Cover with plastic wrap and freeze for at least 2 hours or until completely frozen, then remove from pan and store in a freezer-safe container.
These freeze wonderfully and the girls devour them!