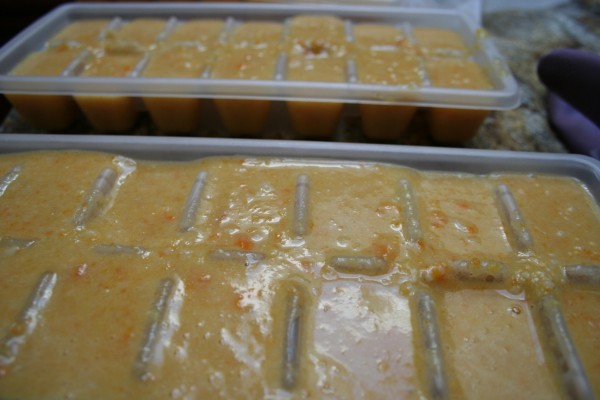 2 cups organic yellow split peas, soaked for 7 hours or overnight
2 quarts organic chicken or beef stock
A few sprigs of fresh organic thyme tied together
1 medium organic red onion
2 large organic carrots
1 small stalk organic celery
2 bay leaves
2 tbsp  organic butter
1 tbsp olive oil
Sauté onion, carrots & celery in butter and olive oil until tender, about 20 minutes over medium/low heat.
Add soaked peas, broth and bay leaves and bring to a boil.
Skim off any foam that floats to the top and discard.
Reduce heat and add fresh thyme.
Simmer, covered for about 30 minutes.
Remove thyme.
Puree with a hand blender in the same pot you cooked it in and freeze into ice cube trays.
You can serve this with a little brown rice, quinoa or top it off with some yogurt or sour cream as well.