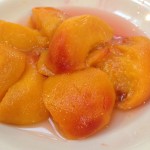 Steamed Peaches
This is a great first bite for any baby 6 months or older to help with constipation.
Pit and quarter a few peaches and place in a steamer basket in pot of water.  Steam about 6 minutes with the lid on.  Allow to cool. The skins will fall off with a little help from a knife.  Add 1 Tablespoon of coconut oil and puree peaches with an immersion blender.   Place in ice cube trays to freeze.
The peach puree can be added to any food to help with constipation.  Sweet potato, banana or even green vegetables.